Cosmoprof Worldwide Bologna, the international hub for the cosmetics industry trends, rewards innovation among "made in China" companies by organizing the Cosmoprof Worldwide Bologna China Contest, in partnership with Creative Capital China in Kerry Hotel, in recognizing the value of investment and research, which helped Chinese brands in recent years to improve product proposals from the point of view of quality, design, and technology.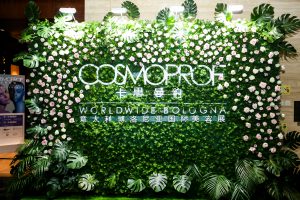 More than 462 Chinese brands were on display during the 2019 edition of Cosmoprof Worldwide Bologna and the Cosmoprof Worldwide Bologna China Contest which celebrated the most interesting products for the international market. With input from local institutions, leading companies for the sector, and top beauty experts, the winners were chosen based on the three selection categories.
"With this initiative we wanted to give the right recognition to the development of the cosmetic industry in China – says Enrico Zannini, General Manager of BolognaFiere Cosmoprof – Cosmoprof Worldwide Bologna is the event which enjoys the best recognition among international beauty professionals, and it has therefore been the reference event for the beauty sector for years. For many years our activities, and consequently those of the international platform of Cosmoprof, have been focused on the Chinese market, among the most important ones in the world and a source for new development opportunities. The Cosmoprof China Contest is the best representation of the fact that Cosmoprof is recognizing innovation, research, and quality among Chinese companies. While organizing this event, the collaboration of BFChina has been extremely important; our agency in China is playing an important role as mediator between the BolognaFiere group and local institutions."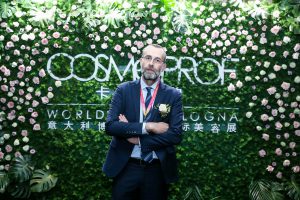 "Cosmoprof will adopt '卡思曼伯' (Chinese phonetic notation: ka si man bo) as its Chinese name for identification purposes, taking effect from now on. Cosmoprof Worldwide Bologna will be officially named '卡思曼伯意大利博洛尼亚国际美容展' – announced Donna Chai, General Manager of BolognaFiere China – The adoption of the Chinese name for Cosmoprof is the most important and necessary step forward in the cosmetics market of China. The entire selection process required three rounds of discussions from more than 50 Chinese names proposed. With the participation of ten professionals, including five leading Chinese cosmetics exhibiting companies and five industry media outlets, '卡思曼伯' was selected as the best one, due to its character pattern, meaning, and phonology which are all in line with Cosmoprof. "
Maria Ludovica Murazzani, Consul of Consulate General of Italy in Shanghai attended the ceremony and commented – "Cosmoprof Worldwide Bologna acts as a bridge of beauty. The cooperation between China and Italy will be a win-win strategy following China's 'one belt and one road' policy. "
Valentina Petroli, Deputy Trade Commissioner of ITA Shanghai Office says – "The Italian Foreign Trade Commission (ITA) and the Italian Ministry of Economic Development have carried out strategic cooperation and achieved fruitful results in the promotion of the beauty fair of Cosmoprof Worldwode Bologna. "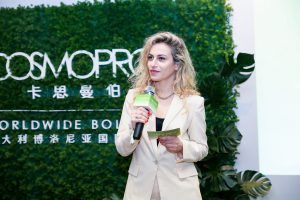 During the event, David Bondi, Senior Vice President of Informa Markets Asia had a speech on the latest news about Cosmoprof Asia, as well as the brand-new Informa Beauty section.
Louis HOUDART, Founder & Managing Partner, CREATIVE CAPITAL CHINA explained on the creation of Cosmoprof Worldwide Bologna China Contest and its conception. To judge the products and services presented by Chinese companies exhibiting at Cosmoprof Worldwide Bologna 2019 for the Cosmoprof China Contest, Louis selected a jury of industry experts, in addition to himself:
• Lu GOU – Founder & CEO, USHOPAL
• Simon YU – Founder, LITTLE ONDINE
• Emma ZHOU YIMING – Founder & Chairman, SUNSULT INVESTMENT CO, LTD
• Grace FU – General Manager, LIBER FASHION
• Tian HONGHAI – Director of Creative Design Department of HANHOO Cosmetics Co., Ltd.
• Jing LEGRAND – Chief Executive Officer, ALTAVIA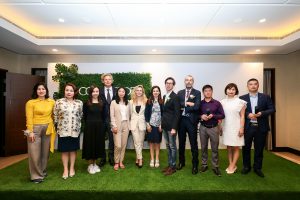 These are the winners for the 2019 edition of the Cosmoprof China Contest:
BEST PRODUCT INNOVATION: the category rewards the most technologically innovative product, with the most attractive design and with a greater impact for the market, not only locally but also at the international level.
Three finalists in the race:
– Nox bellcow Cosmetics Co., Ltd.– Nano Collagen Instant Tightening Mask
– Heshan Yecheng Plastic Products Co., Ltd. – Irregular Shape Preform
– ChangZhou Terry-Packing Sci-Tech Co., Ltd. – Cream Filling Line
The winner is ChangZhou Terry-Packing Sci-Tech Co., Ltd. – Cream Filling Line: a filling machine, with a capacity up to 50 bottles being filled every minute.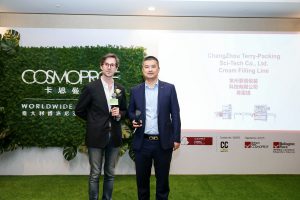 MOST OUTSTANDING CHINESE ENTRY: to be rewarded, a new emerging reality, which is already characterized by a high quality product and a global business vision.
The three finalists are:
– Beijing ADSS Development Co., Ltd. –1200W Diode Laser Machine
– Efa Packaging Industrial Co., Ltd. – LIP Uchiwa
– Libo Cosmetics Co., Ltd. – Air Cushion Lip Glaze
The prize went to Efa Packaging Industrial Co., Ltd. – LIP Uchiwa: a lip-gloss packaging solution, which can be decorated with different decoration techniques and applications, thus facilitating brand recognition in the cosmetic market.
MOST INNOVATIVE CHINESE DESIGN: packaging proposals, beauty devices, or technological products with a refined design, suitable for the international customer; this category is dedicated to them.
The finalists are:
– Guangzhou Oly Nail Factory – LG-602
– Guangdong Qiaoyi Plastic Co., Ltd. – LG-148 LS-447 MA-913
– Nox bellcow Cosmetics Co., Ltd. – Packaging Design
The award went to Nox Bellcow Cosmetics Co., Ltd. – Packaging Design: a packaging solution rich in color, with a simple and fashionable design style, which enables consumers to see and touch the product.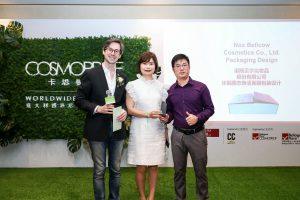 For further information, www.cosmoprof.com.